Another meme, this time from
Laura
. Here I list ten things in my life that start with the letter "R." If you want to play (just post in my comments), I'll choose another letter for you.
1. Rome. I have been to Rome three times: as an undergraduate classics student during Spring Quarter of 1997, on a shorter trip with my friend Helene in 2000, and in the summer of 2002 for Reginald Foster's Aestivae Romae Latinitatis. I love everything about Rome: the history, the architecture, the archaeological sites, the food, the people, the multitudes of feral cats... And, of course, I met Justin the last time I was there! Rome is the best.
2. Road trips. I've discovered that traveling around this country is almost as fun as going to Rome. For ages I was a Euro-snob and associated road trips with childhood unpleasantness, but Justin introduced me to real road-tripping, which doesn't stink and brings us to all the beautiful and interesting places that comprise this huge, crazy country.
3. Rain. I grew up in Seattle. "Rain" was the first r-word I thought of, even before Rome, which should tell you something.
4. Red. I love red! Especially dark wine/garnet red. When I got married, I wore red shoes, had my bridesmaids wear red, and carried red roses down the aisle. I wear red all the time, and garnets are my favorite gemstone. It's not my birthstone, but I don't care.
5. Roman Catholic Church. I converted to Catholicism four years ago. I like being Catholic. And it makes going to Rome (see #1) even more exciting.
6. Religious studies. Supposedly I'm getting a PhD in it. I have an MA in comparative religion, although I still don't know how you compare religions.
7. Romance languages. (Do all these derivatives of Rome count? Sure, why not!) I know Latin. I can get by in Italian and read it fairly well. I can read French, though I can't speak it for the life of me. I live among, and go to church with, a lot of people whose native language is Spanish.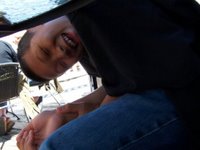 8. Ronel. Ronel is my nephew. He's ten. He is probably the easiest and most pleasant kid in the world to hang out with.
9. Reading. Justin and I read a lot. We own thousands of books (literally, at least 2000 and probably more). We kidnap books from libraries and hold onto them until they're recalled, which is sometimes never. I've been reading for a quarter-century at least.
10. Rachmaninov. Rachmaninov's Vespers are my current favorite classical/sacred music. I included one of them ("Bogoroditse Devo") in my wedding. I sang them with a community choir in Berkeley. They are really pretty, and you should listen to them sometime if I haven't inflicted them on you already.
Anyone else?